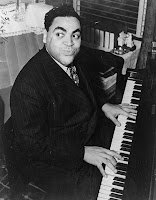 Thomas Wright Waller was born in New York City on 21st May 1904. His mother, Adeline, taught him to play the reed organ with which he later accompanied his father, the Reverend Edward Waller, an Abyssinian Baptist Church lay preacher. At school he played piano and at the age of 15 he started work as the organist at the Lincoln Theatre on 135th Street, in Harlem.
When his mother died in 1920, Waller moved in with pianist Russell B. T. Brooks and his family. Waller developed under the tutelage of James P. Johnson, who also recommended him for a vacancy at Leroy's nightclub, where he became an all-round entertainer. In 1922, Johnson took Waller to QRS ("Quality Reigns Supreme") to record piano rolls. On these rolls, Waller developed ragtime into what became known as stride piano.
That same year, the eighteen year old Waller started his audio recording career with Okeh, recording two solos: "Muscle Shoals Blues" and "Birmingham Blues". He also recorded as an accompanist for a number of blues artists. He became a huge success not only through his piano playing and song-writing on numbers such as "Squeeze Me", "Ain't Misbehavin'" and "Honeysuckle Rose", but also because of his stage personality as a loveable rogue.
While touring in Chicago in 1926, Waller was kidnapped and taken to the Hawthorne Inn, owned by Al Capone. There he found a party in full swing: it was Capone's birthday party and he was the surprise performer. Forced to play piano at gunpoint he later left the party, drunk and thousands of dollars better off, having received tips from Capone and other party-goers.
In the mid-1930s, while working on the West Coast, Waller appeared in two movies: Hooray for Love! (1935) and King of Burlesque (1936). He continued to tour, taking his band to Europe in 1938 and again in 1939; although, the outbreak of war cut the tour short. While in Britain he recorded his London Suite, six thematically linked solo piano pieces that demonstrated his aspirations as a serious composer.
He continued to tour extensively and returned to Hollywood to lead an all-star band in Stormy Weather in 1943. By that time his touring regime, his overeating and heavy drinking were taking a toll on Waller. He died of pneumonia on 15th December 1943, aged 39, while on a train near Kansas City, Missouri.