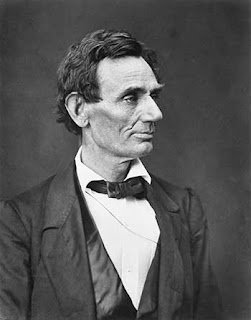 Today marks the 201st anniversary of the birth of our nation's 16th president, Abraham Lincoln. It also brings to a close this past year which has seen countless celebrations of the bicentennial of his birth.
The bicentennial celebrations kicked off last February 12 with ceremonies in the small Kentucky town of Hodgenville, near his birthplace. That day also saw a national teach-in from Washington, where Harold Holzer and Doris Kearns Goodwin helped teachers bring Lincoln's stories to students across the country. The first of three events were held at the Lincoln Memorial in Washington, D.C. in order to re-dedicate it to the memory of Abraham Lincoln.
New statues of Lincoln were unveiled in places such as Louisville, Kentucky and Lincoln City, Indiana, near his boyhood home site. Television programs like "American Experience" and "Bill Moyers Journal" (both on PBS) held specials to commemorate Lincoln, one about the assassination and one about Lincoln's lasting legacy.
Arts performances were held throughout the United States at halls like The Kennedy Center in Washington, D.C. and in far smaller venues such as E.J. Thomas Hall in Akron, Ohio. I had the great pleasure in attending "Our Lincoln" put on by the Kentucky Arts Council at the former location, and "A Lincoln Portrait" performed at the latter location. Both were moving and full of meaning.
Exhibits such as "Abraham Lincoln: An Extraordinary Life" opened at The Smithsonian's National Museum of American History. The Library Of Congress began "With Malice Toward None," a nationally touring exhibit of fantastic artifacts associated with Lincoln. The Smithsonian exhibit continues until 2011 and should not be missed. The touring exhibit is currently in Indianapolis, Indiana at the Indiana State Museum. Speaking of museums, this past year also saw Indiana State Museum "win" the competition to host the largest private collection of Lincoln items, formerly in the possession of the now-closed Lincoln Museum in Fort Wayne.
Of course this past year saw the publication of numerous new books about Lincoln, adding to the nearly 17,000 books already in existence. Notable among these books a massive two-volume biography by Michael Burlingame, an important new biography by Ronald C. White, and a delightful children's book titled "Lincoln And His Boys" by Rosemary Wells.
Lincoln was further honored by new commemorative coins by the U.S. Mint. A special silver dollar sold out almost immediately. Four newly designed cents were released as well, depicting various stages of Lincoln's life. Just yesterday, a permanent redesign of the Lincoln cent was unveiled in Springfield, Illinois. The reverse will now feature the Union shield instead of the Lincoln Memorial.
It's been a wonderful year of celebrations and performances to honor the memory of our country's greatest president. I hope that Mr. Lincoln doesn't fade from the headlines now that his big year is over. After the exhibits close and once the new books are read, I wonder will our nation still honor the memory of Abraham Lincoln as vividly as it has this past year?
Debate continues over just what Abraham Lincoln's legacy means to our nation. Should we remember him as helping to create a stronger federal government, for good or bad? Does he have relevance to the continued struggle for freedom and justice for all Americans?
On this 201st anniversary of Abraham Lincoln's birth, it is my wish that all Americans come to a better understanding of him and his continuing relevance to our nation today.