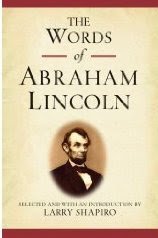 This year has already seen the publication of numerous books about Abraham Lincoln, from children's books to the massive two-volume biography by Michael Burlingame. One of those books is a brief, but informative, book titled "The Words Of Abraham Lincoln" from Newmarket Press, released this month.
As you might guess, the book contains Lincoln's own words, from little known letters to friends, family, and generals, to his majestic Gettysburg Address and inaugural addresses. It includes excerpts from his 1860 address at the Cooper Union in New York City and text from his final public speech just days before his death.
I like how the editor of the book (Larry Shapiro, former editor-in-chief of the Book Of The Month Club and editorial director of the History Book Club) arranged these selections of Lincoln's writings thematically, rather than chronologically. For example, there is a chapter about Lincoln's letters to his generals, another featuring Lincoln's writings on slavery, still another contains letters written to his family. This arrangement helps the reader access Lincoln more readily than the traditional chronological arrangement of most books containing Lincoln's writings.
Mr. Shapiro also provides brief but helpful introductions or notes to the selected writings. This allows the reader to understand the letters and speeches in the proper context. There are reprints of the most famous Lincoln photos at the beginning of each chapter. I especially was pleased to find a chronology of important events in Lincoln's life as an appendix to the book.
Copyright restrictions preclude me from including any text of the book in this review. I wish that wasn't the case, because some of the more obscure letters which Lincoln wrote can be very powerful and moving.
To be sure, "The Words Of Abraham Lincoln" lacks the completeness of larger works dedicated to the writings of Lincoln. But that's not the point of this book. In just 113 pages, the editor has chosen a wide range of writings which, I think, gets to the essence of Abraham Lincoln. It is an excellent introduction for those individuals who wish to learn more about the nation's 16th President, who also happened to be a brilliant writer of the English language. I recommend it.
Disclaimer: Newmarket Press provided me with an advance copy of this book. I am in no way otherwise affiliated with the company, nor have I been compensated financially for this review. You may purchase a copy of this book here in both hardcover and softcover.