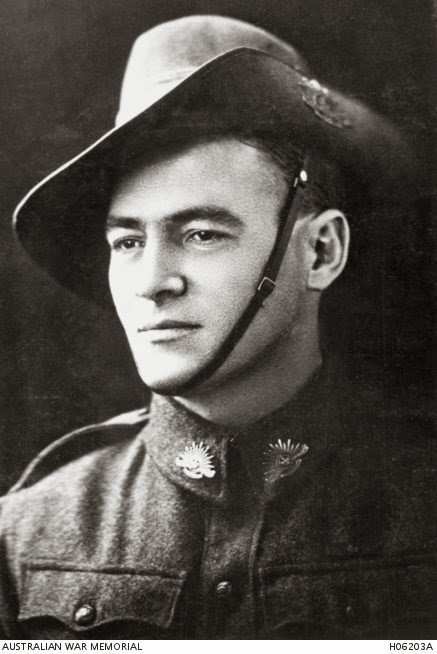 Private Joergen Christian Jensen, 50th Battalion, AIF, Victoria Cross action at Noreuil, France.
Joergen (Jorgan) Jensen was born in Denmark. He came to Australia as a young man and was naturalised in 1914. He enlisted in the 10th Battalion and was sent to Gallipoli in September 1915. Following the evacuation he transferred to the 50th Battalion.
In Noreuil, France, when an Australian advance was checked by a manned enemy barricade, Jensen threw in a bomb and rushed the post. He then threatened the occupants with two more bombs, having extracted the pin of one of them with his teeth, and forced their surrender. A prisoner was sent to a neighbouring enemy party to demand their surrender, but they were fired on by the Australians. Jensen stood up, ignoring the danger, and waved his helmet until the firing ceased. He was awarded the Victoria Cross for his efforts, 2 April 1917.
On 5 May 1918, while on patrol near Villers-Bretonneux, Jensen was severely wounded and was eventually invalided to Australia. Still troubled by war injuries, he died in Adelaide in 1922.