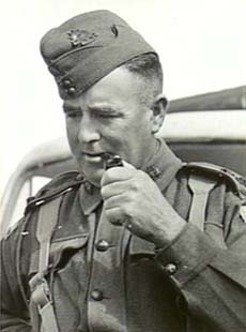 John Wesley Mitchell, was born on 16 March 1891 at Tarranyurk, near Dimboola, Victoria, fourth child of Australian-born parents Joseph Mitchell, farmer, and his wife Eliza, née Milkins.
While working as an engineering cadet at Warracknabeal, Jack served in the Militia and was commissioned (1912) in the Victorian Rangers (later 73rd Infantry Regiment). On 24 August 1914 he was appointed to the Australian Imperial Force. Five ft 9½ ins (177 cm) tall, with dark hair and blue eyes, he was allotted to 'E' Company, 8th Battalion, which embarked for Egypt in October. He was quietly spoken and popular, and able to handle 'all the jobs of a subaltern'.
Landing at Gallipoli on 25 April 1915, Mitchell was wounded that day and admitted to hospital. He rejoined the battalion on 26 May and on the following day became its adjutant. By October he held the rank of temporary captain and was employed as a company commander. He returned to Egypt in January 1916, reached the Western Front in March and was promoted major in June. Absent from his unit in July-October when stricken with influenza, he was away again from January to March 1917 attending the Senior Officers' Course in England. On 14 April 1917 he was promoted lieutenant colonel and placed in command of the battalion.
Mitchell showed great courage in carrying out reconnaissance. In the operations at Lagnicourt and Bullecourt, France, in April and May 1917 (in which he won the Distinguished Service Order) his personal example influenced his men to push ahead and secure tactical positions. On 28 October, although gassed, he remained on duty. During the capture of Rosières Station and the village of Lihons on 9 and 11 August 1918, his battalion suffered heavy casualties; Mitchell twice went forward under fire to reorganize the line; he won a Bar to his D.S.O. For his leadership of the 8th Battalion, he was also awarded the Belgian Croix de Guerre and mentioned in dispatches five times. In October and November he had temporary command of the 2nd Brigade. His A.I.F. appointment terminated in Australia on 5 April 1920.
Employed by the Victorian Department of Lands and Survey as an inspector of land settlement and later as a member of the Discharged Soldiers Settlement Inquiry Board, Mitchell provided practical assistance to former servicemen who settled in the Wimmera and the Mallee. On 2 May 1927 at St John's Anglican Church, Horsham, he married Margaret Blanche West, a 31-year-old nurse; they were to remain childless. He continued to serve in the Militia, commanding the 21st Battalion (1921-22), the 1st Armoured Car Regiment (1934-38) and the 20th Light Horse Regiment (1939).