Cnut the Great
(
c.
985 or 995 – 12 November 1035), also known as Canute, was a king of Denmark, England, Norway and parts of Sweden. Though after the death of his heirs within a decade of his own and the Norman conquest of
England
in 1066, his legacy was largely lost to history, historian Norman F. Cantor has made the paradoxical statement that he was "the most effective king in Anglo-Saxon history".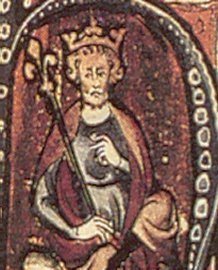 He was generally remembered as a wise and successful king of England, although this view may in part be attributable to his good treatment of the Church, keeper of the historic record.
He was also swift to deal with his enemies and merciless. Before leaving England in 1014, he dispensed with the hostages his father had collected; but he mutilated them in the process.
He was remembered as a splendid Viking, who never suffered in England from the divisions and disloyalties which marred the milder rule of Ethelred.
"Gracious giver of mighty gifts, you made corselets red in Norwich. You will lose your life before your courage fails. Still you pressed on, blunting swords upon weapons; they could not defend their strongholds when you attacked. The bow screamed loud. You won no less renown, driver of the leaping steed of the roller, on Thames's bank. The wolf's jaw know this well. King bold in attack (we have moved on to 1026), and there the she-wolf got much wolfs food. Terrible staff of battle, you held the land against two princes, and the raven did not go hungry there. You are swift to deal with the race of men."