One of my favourite meals to serve is a series of smaller dishes – I so much prefer sharing my foods and really enjoy the whole social side to it as well. Whether you call it Tapas, Mezze or even picky bits I always like to try out new dishes, along with a few favourites too! I always think when sharing food of an old Friends episode, where one of the characters Joey is on a date and the guest steals a chip and Joey is bereft and mutters the immortal line 'Joey doesn't share!' Fortunately none of us are of that thinking and the more sharing the better! Its also a great way of trying out new dishes on a small scale, that way if something doesn't work at least its only a small portion!
The following dishes all got made, using a mixture of what we had in the cupboards and using a few key items the nice people at
Olives Et Al
gave to me. I've always enjoyed their products – that was until the local farm shop changed management and I couldn't get their olives anymore, however it was very handy to be also given a jar of their Smoky Chipotle Chilli olives – I really do prefer getting olives marinaded in lovely oils – not only you get delicious flavoursome olives but then you have a double bonus in the form of also lovely oil leftover to be used in other treats! One of my most simplest forms is to make flavoured toasted breads. English muffins work well, baguette or ciabatta slices also are great too! To be honest if its made of flour and isn't cake its worth a shot! Simply brush with the oil and grill!
First up is a really nice, light dish that can be made inexpensively – I used Smoked Salmon trimmings which worked out at about 70p, a small avocado and the lovely Mojo dressing to bring it all together. As Avocado's discololour fairly fast, make sure you mix this dish quickly – it will keep for about an hour without browning.
I love this Mojo dressing so much – despite it saying Pink Grapefuit, which really does not appeal this was surprisingly tasty, sligtly smokey and zingy – one of my favourite ones I have tried to date I think!
Mojo Avocado and Smoked Salmon Salad
70g smoked salmon trimmings
1 small ripe avocado, cut into ½ cm pieces
Combine all the ingredients together lightly and allow to chill for 30 minutes before serving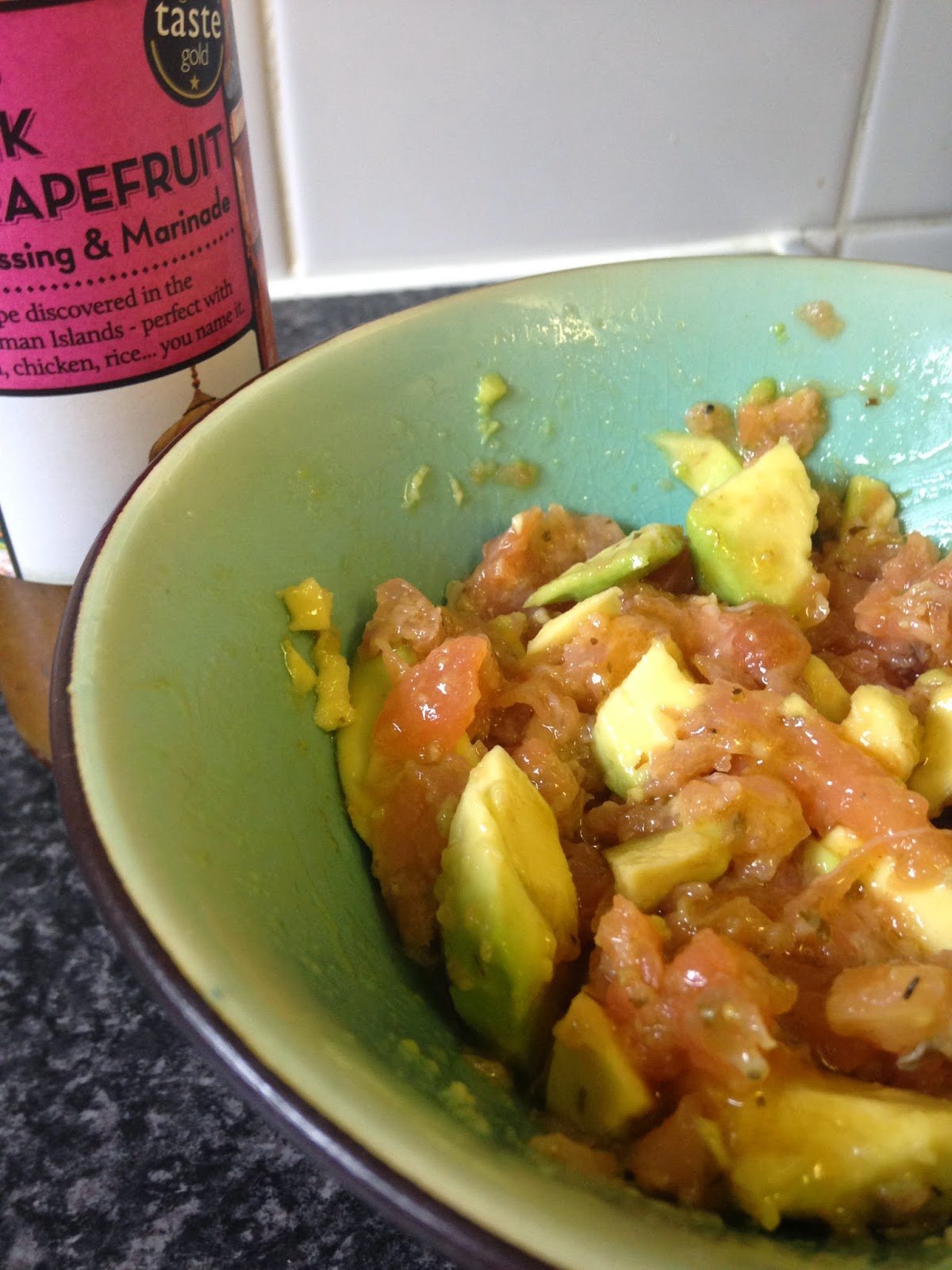 Harissa Lamb kofte


250g lean lamb mince
½ tbsp Olives Et Al Harissa paste
Salt and pepper, to taste
1 tbsp milk
Mix by hand everything together, then roll into small meatballs, about the size of a walnut and place in a shallow, greased baking dish and bake in a hot oven for 12-15 minutes or until cooked through. Dot with a little dab of harissa to garnish on serving
I have tried a few different Harissa's but liked the Olives et Al one as it was in liquid form and easy to combine with the lamb! Its very tasty but has a kick so do be warned! Beef or turkey mince would work well too here in lieu of lamb.
Chorizo Tomato Stew
This last dish was my own invention, and doesn't involve Olives Et Al in any form but it was so tasty I have to sneak it in! I love using chorizo when cooking as its so versatile, keeps well in the fridge and a little goes a long way and imparts so much delicious and spicy flavour! B is a huge fan of chorizo too so I know dinner will be a hit pretty much everytime I use it!
100g spicy chorizo, cut unto ¼ cm slices
½ red onion finely sliced
1x 400g tin plum tomatoes, good quality
In a dry frying pan cook the chorizo until its starting to colour and release its lovely amber oil, add the garlic for 30 seconds, then push to the outsides and add the vinegar, allow it to burn off the alcohol then stir in the tomatoes. Use a wooden spatula to lightly break them up, season with s&p, turn down the heat and cover, cook for about 40 minutes until the sauce has reduced, stirring occasionally. Season to taste if needed.
Its a lovely dish, rich tomatoey and full of flavour, it also is very good if you stir through some sliced cooked new potatoes for an alternative dinner!
Here is a round-up photo – there is also a very nice roasted vegetable bulgar salad I will post later!
I hope my dishes give you a little inspiration for your next dinner! Do let me know if you try them!
Many thanks to Tedi and Olives Et Al for my samples.