Now if I recall correctly, I once saw a recipe at some point for Cauliflower cheese soup and it slipped to the dark recesses of my mind as one of those hmm one day recipes… but when faced recently with the usual dilemma of er what to make for dinner but even more so as I was far away from home and in my aunties kitchen, and a fridge full of leftovers the filed away thought magically resurfaced with a ooh could I try it out? Would it work? Would it be weird….
On the Sunday prior I had made a fairly majestic mustard spiked cauliflower cheese but despite our best efforts, there was a tub leftover… that was until Wednesday, arriving home post a long drive and day to the lovely
River Cottage
clutching my lovingly hand made Apple, blackberry and Goats cheese soda bread and wondering what I could serve with it, the Cauliflower cheese soup idea came back to fruition and a star was born! I think in future I will have to make extra Cauliflower cheese purely to make soup with its leftovers! It tasted so good and was a perfect accompaniment to my bread! Oh and my home made butter!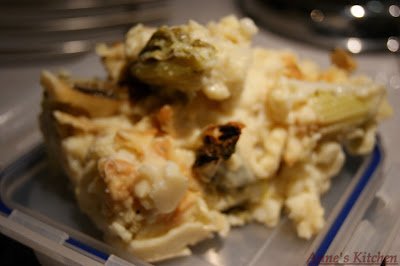 Lovely leftovers!
Now I think it was gammon, it was either that or a bacon joint, either way it was another leftover that got added!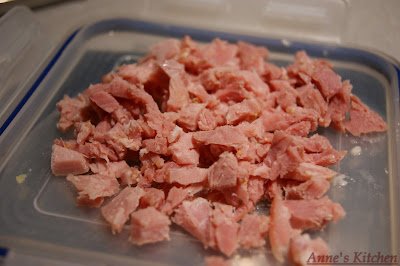 Making the finishing touches: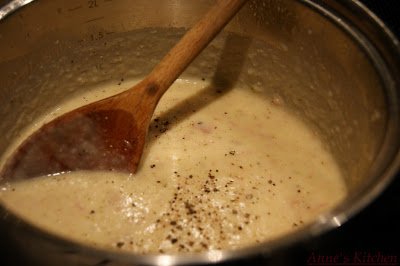 Serves 2
Easy
Ingredients:
400g leftover cauliflower cheese
1 clove minced garlic
400ml vegetable stock
1/2 tsp spicy Polish spicy mustard (if not a little more wholegrain-this is presuming your cauli cheese was already containing mustard too)
50g shredded cooked gammon or bacon
S&P
1 tsp oil
mint leaves to garnish
Heat the oil in a saucepan, saute the garlic until softened, add the cauliflower cheese and stock, cover and bring to the boil, then simmer for 20 minutes.
Add the mustard, then blitz with a stick blender adding the gammon at the very end for a few seconds, season to taste
Serve, garnish with mint leaves if you have some or a similar herb.