A few weeks back, on holiday and staying with lovely family I'd had a rather lovely day out at River Cottage and despite being slightly tired from the driving, I spotted some ripe bananas in the fruit bowl and decided to do some experimental baking! To be honest most of my baking falls in the experimental category and with this I didn't look at any recipes, just used some loose baking knowledge and hoped for the best!!
After a rummage through the cupboards (always a fun mystery and delight to use other people's kitchens and dishwashers!) I ended up making a rather delicious cake, which I am glad I vaguely scribbled down as the one slice that made it back to my home disappeared in about 30 seconds! Its sweet, lovely cinnamon smell whilst baking will make a tummy rumble and the cake fills that rumble very well! It was also very tasty cold sliced up!
Now I debated naming this cake recipe with the word Caramel in, because it doesn't… but I when you make up the cake batter its rather caramel like and if Dan Lepard can call his amazing muffins 'Chocolate custard muffins' without being chocolate custard then I decided I can too be loose with the terminology….!
See its caramel right?!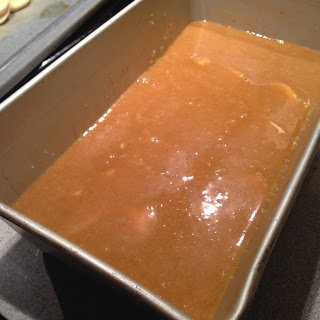 Makes 1 x 2lb loaf tin (I guess, its not my tin!)
Ingredients
100g salted butter
15g golden syrup
120g light soft brown sugar
1 large banana, sliced at a diagonal
2 large free range eggs
120g self raising flour
1/2 tsp baking powder
1/2 tsp ground cinnamon
1 tsp demerara sugar
Greasing spray or tin liner to prepare tin
Method:
Pre-heat oven to 160 fan/ 180 regular oven
In a saucepan, melt the butter, golden syrup and brown sugar until the sugar has melted and its slightly syrupy – about 6-7 minutes, put to one side
Sift the flour, cinnamon, baking powder together. Beat in the eggs then fold into the caramel mixture.
Pour half the mixture into the tin, place half the banana slices into a layer, pour over the remaining cake batter, then add the remaining banana slices as a layer, sprinkle over the demerara sugar and bake for 35 minutes, or until a skewer comes away clean.
Eat with lashings of custard.