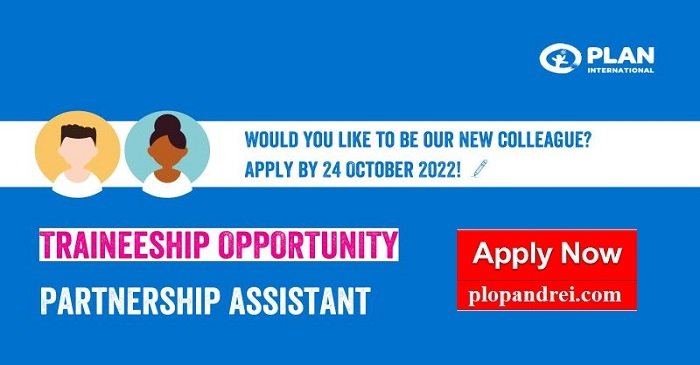 Traineeship: Partnership Assistant
Plan International is an equal opportunity employer. We celebrate diversity and are committed to creating an inclusive environment for all employees. We strongly encourage women, minorities, individuals with disabilities or members of other underrepresented groups to apply. In addition, if you do not meet all the requirements and are very interested in the position, you can still apply by letting us know what you would bring to the work of Plan International.
Traineeship title: Partnership Assistant
Duration: 6 months with the possibility of renewal up to one year (CIP «Convention d'Immersion Professionnelle») – the renewal is not applicable to Belgian nationals
Preferred starting date: As soon as possible
Applications deadline: 24 October 2022
Reporting to: the INTPA Manager and/or ECHO Manager
Responsible for: Supporting the Partnership Team
Based in: Brussels, Plan International EU Office
Status: CIP (Trainee). Full-time (5 days per week, 37.5 hours)
Net Salary: +/- 939 EUR per month
Benefits: 10 PLAN holidays for 6 months CIP period, work-related public transport costs reimbursed
About Plan International
Plan International (PI) is a rights-based development and humanitarian organisation working for equality for girls and better lives for all children. We are independent of government and have no political or religious affiliation. We support children's rights from birth until they reach adulthood. We believe in the power and potential of every child. But this is often suppressed by poverty, violence, exclusion and discrimination. And it is girls who are most affected. Working together with children, young people, our supporters and partners, we strive for a just world, tackling the root causes of the challenges facing all children and especially girls. We are active in over 80 countries across the world.
The purpose and ambition of the Plan International EU Office (EUO) is to advance children's rights and equality for girls in particular in the EU's external action. In line with Plan International's Global Strategy, One Million Reasons, and the EUO's 5-year strategy, we contribute to ensuring that 100 million girls learn, lead, decide and thrive. We work with the EU in its three roles as a donor, policy-maker and promoter of human rights
This is an exciting opportunity for a dynamic individual to join our EU funding team to support in implementing Plan Europe's funding strategy, both in relation to INTPA and/or ECHO, and ensuring EU development and humanitarian aid pay strong attention to children and girls in particular.
Purpose of the role
Responsible for supporting the Partnership Team in ensuring EU development and humanitarian aid pays particular attention to children and girls, through increased EU grants for quality projects run by Plan International.
Principal Responsibilities
Under the supervision of, and in collaboration with, the INTPA Manager and/or ECHO Manager:
1- Identify relevant EU Funding opportunities (INTPA and/or ECHO), review and analyse results and share relevant information with Plan International entities:
Monitor on a daily basis the INTPA and/or ECHO funding opportunities at global and country level;
Disseminate information about upcoming funding opportunities to relevant Plan International National and Country Offices;
Assist in the follow-up of information requested to/from Plan International's Country and National Offices regarding EC funding issues;
Support the Partnership Officer in the consolidation and monitoring of the grants database, other internal databases for peer learning, in addition to the monitoring tools for the engagement with the donor;
Analyse EC's Annual Action Plans for thematic and geographic programmes;
Review and analyse Plan International's results regarding EU funding;
Maintain an up-to-date contact database of relevant focal points and staff within Plan International and the INTPA/ECHO departments.
2- Support the development of internal processes and tools at grants acquisition and implementation stages:
Support the elaboration of tools for internal coordination, information-sharing and quality control of project proposals submitted to the EC;
Support the drafting of briefing notes and toolkits on EC compliance for Plan International's Country Offices and PI's European National Offices.
3- Support in the preparation of internal meetings and trainings around EC Grants:
Support the organisation of internal meetings with representatives from Plan International's National, Country and Regional offices;
Support the preparation and organisation of training sessions, online courses and webinars;
Support the development of training packages.
4- Support the Plan International EU Office with other tasks as needed:
Support the office with administration (e.g., minutes, logistics of meetings).
Skills and Qualifications
Essential
Relevant experience in human rights, political science, international development or any other specific field relevant to PI's work;
A good understanding of the functioning of the European Union, development policy and/or humanitarian work, particularly relating to child rights and gender equality;
Excellent verbal and written English communication skills;
Team spirit and willingness to work in a multicultural team;
Able to communicate effectively and to collaborate with colleagues in all the regions where Plan International works;
Very good organisational skills, with the ability to work to a high standard, manage stress while prioritising multiple tasks and meeting deadlines;
Fully computer-literate: skilled and confident user of office applications, especially MS Word, Excel, PowerPoint, Outlook;
Interest in fundraising, programme management or related fields;
Works with trustworthiness and integrity and has a clear commitment to Plan International's core values and humanitarian principles;
A valid work permit for Belgium.
Desirable
Very good command of English;
Other languages ​​such as French and/or Spanish are an asset;
Previous experience in a related field (EU institutions, NGOs in Brussels and/or the Global South, etc);
Strong affinity for working with figures and statistics.
How to apply
If you meet the skills requirements above and are interested in applying for this post, please send your CV (no Europass) and cover letter (no longer than 2 pages) in English to:
EUORecruitment@plan-international.org with "Application: Partnership Assistant" in the subject.
Deadline for applications is the 24th of October 2022 at 23:59, Local Time in Brussels, Belgium.
Applications received after the deadline will not be reviewed. Due to high volumes of applications received, should you not have received feedback on your application within two weeks of the closing date, please consider your application unsuccessful.
Visa/passport requirements: the candidate must currently hold the independent right to live and work in Belgium and be prepared to ensure that right remains throughout the scope of the contract. Please specify in your application how you hold this right.
A range of pre-employment checks will be undertaken in conformity with Plan International's Safeguarding Children and Young People Policy. Plan International is fully committed to promoting the realisation of children's rights including their right to protection from violence and abuse. That means we have particular responsibilities to children that we come into contact with. Plan International believes that it is our duty to ensure that we, as an organisation, do everything we can to keep children safe. We must not contribute in any way to harming or placing children at risk.
For more information please open this link
Apply Here