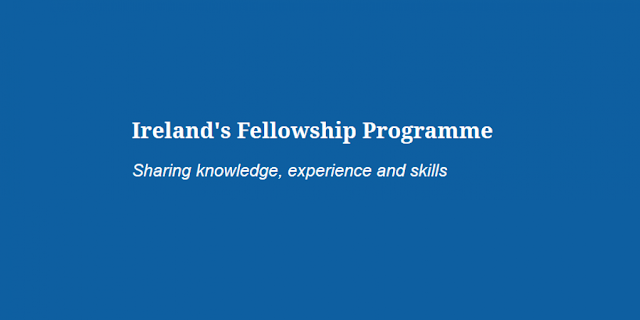 Deadline: 28 August 2019
Open to: residents national of one of the following countries: Burundi, Eritrea, Ethiopia, Kenya, Lesotho, Malawi, Mozambique, Rwanda, Sierra Leone, Somalia, Sudan, Tanzania, Uganda, Zambia and Zimbabwe
Benefits: fully-funded one-year master's programme at a prestigious higher education institution (HEI) in Ireland

Description
The aims of the Ireland-Africa Fellows Programme are to nurture future African leaders, women and men, to develop in-country capacity to achieve national SDG goals, and to build positive relationships between Ireland and Africa.
Through the programme, early career professional women and men, with leadership potential, from eligible countries will avail of relevant postgraduate study opportunities in Irish higher education institutions. On completion of their studies, graduates will have acquired relevant skills and knowledge and be better capacitated and positioned to influence the advancement of national social, economic and development priorities. Fostering women's leadership capacity will be a priority. On return, graduates are expected to resume work and put their acquired skills into good use for the benefit of their home countries
Studying at postgraduate level in Ireland offers a unique opportunity to join programmes that are driving innovation and changing lives worldwide. Applicants can choose from almost 200 postgraduate programmes specially selected to enhance capacity in line with stated country development goals and the strategy of the Irish Embassy. The range of courses includes development studies, gender studies, climate related rural development, health care, education and strategic management.
Eligibility
Eligible Countries:  Burundi; Eritrea; Ethiopia; Kenya;  Lesotho; Malawi; Mozambique; Rwanda; Sierra Leone; Somalia; Sudan; Tanzania;Uganda; Zambia; Zimbabwe
To be eligible for an Ireland-Africa Fellows Programme scholarship commencing at the beginning of the academic year 2020 applicants must:
Be a resident national of one of the following countries: Burundi, Eritrea, Ethiopia, Kenya, Lesotho, Malawi,
#Ireland- #Africa #Fellows Programme for #Master's Degree in #Ireland #Ireland- #Africa #Fellows Programme for #Master's Degree in #Ireland