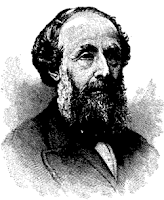 The industrialisation of Britain the nineteenth century brought many young men from their homes in the country to the towns and cities. Religious organisations provided a salve for the loneliness these young men felt, having left family and friends behind. George Williams, was one such young man. He had been born into a well-to-do Somerset farming family in 1821, attended a local dame-school at Dulverton and a grammar school in Tiverton before moving to Bridgwater to work as an apprentice to the draper Henry William Holmes. Holmes attended the town's Zion Congregational Chapel, which Williams also started attending, becoming an avowed evangelist and teetotaller.
In the early 1840s, Williams moved to London to work as a buyer for Hitchcock, Rogers & Co., based at St Paul's Churchyard. In 1842, he began to worship at the King's Weigh House Chapel in the City of London. He became active in the schools and missionary works of Weigh House and other nonconformist evangelical chapels in London, but was soon ready to set up a new organisation himself.
On 6th June 1844, Williams and a group of like-minded young men met for the first time in a room above Hitchcock's premises. This group was known as the Young Men's Christian Association. Their initial intent was to form a Christian evangelical network of drapers and other tradesmen in London. This network soon reached beyond the limits of capital, benefiting from the quick affordable travel that the newly created railway networks offered. After spreading throughout Britain, the YMCA soon had members abroad. In 1851 there were YMCA groups in Belgium, France, Germany, Holland, Australia, Switzerland, and even as far afield as Canada, and the United States.
At some point in the 1850s, Williams converted to evangelical Anglicanism, underlining that the YMCA was a non-denominational organisation. In 1863, Hitchcock died and Williams took over as sole proprietor of Hitchcock, Rogers & Co., which he restructured as a wholesaling enterprise. He remained active in the YMCA, becoming London treasurer and influencing the creation of National and International councils.
To mark the fiftieth anniversary of the foundation of the association, in 1894, Williams was granted the freedom of the City of London and received a knighthood from Queen Victoria. He also involved himself with a plethora of Christian and puritan organisations, for which he either provided financial support or acted as president, right up until his death in 1905. He was granted the final honour of an impressive funeral and burial in the crypt at St Paul's Cathedral, London.
The YMCA website includes a page detailing the history of the association.