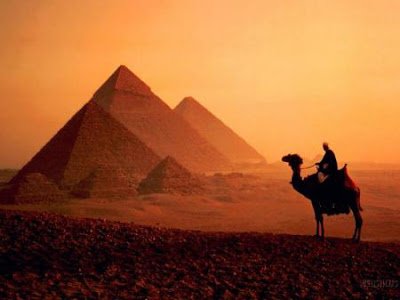 I've been home for just a few days now from a trip to Egypt to see the wonders of the pyramids, the Sphinx, the temples at Luxor, and the great temple of King Ramesses II at Abu Simbel. The trip was a surprise gift from my wife this past Christmas, and it fulfilled a lifelong dream of mine to see the splendors of ancient Egypt.
Of course, this blog is not about my travels to the Middle East; it's about Abraham Lincoln. So I had to do a bit of research to find out what connections, if any, Mr. Lincoln might have had to Egypt either before or during his presidency. There of course aren't many, but I did learn about some dealings his administration had with Egypt during the Civil War.
Egypt in those days was technically still part of the Ottoman Empire, which was based in Constantinople (Istanbul). However, thanks to an invasion of Egypt by Napoleon III in the early 18th Century, that country was more or less autonomous of the Ottomans. Lincoln's Secretary of State, William H. Seward, realized at the outbreak of the Civil War that it would be important to assure the neutrality of the Ottomans, just as it was important to keep France and England neutral.
Seward's efforts resulted in a treaty signed with the Ottoman Empire in 1862 which guaranteed continued trade between the U.S. and the empire. Even more importantly, it guaranteed to the U.S. that any Confederate pirates preying on U.S. trade vessels would be apprehended and detained.
Lincoln also wrote a letter to the "Wali" of Egypt (similar to a governor) during his presidency protesting the harassment and abuse of a U.S. missionary in that country. In response, Egypt promised to punish those who had abused the missionary and again assured Lincoln that Confederates would not be permitted in Ottoman waters (Mediterranean, Black Sea, Red Sea, etc.) This action by Lincoln had the additional effect of deeply impressing religious Christians in Europe, which further helped to keep England and France out of the Civil War.
This post was based on two different sources. The primary source is a speech titled "Lincoln and The Middle East" given by Mr. Austin Knuppe at Grand Valley State University in Michigan. It's a learned and fascinating look at how America's involvement in the Middle East actually developed in earnest during the Lincoln administration. Very worthwhile reading.
The second source for this posting is The Collected Works Of Abraham Lincoln, an indispensable reference for all of Lincoln's known letters, speeches, and other writings. Lincoln scholars both professional and amateur use this source in their research.