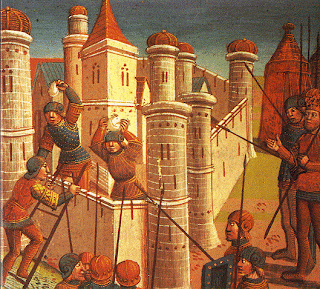 The bombardment of Constantinople
In 1452, when Urban, a Hungarian engineer was turned away by Constantine, the Byzantine Emperor, he was employed by Mehmet II to construct a cannon 27ft long and with a range of a mile. The Ottomans had already realized the importance of cannons and by 1364 had begun production, they used field artillery at Kosovo in 1389.
Mehmet arrived at Constantinople with his 100,000 men, a huge train and kept up a ceaseless bombardment of the city for six weeks. Within a week, the outer wall had been breached in several places, and when the Ottoman placed more cannon on a pontoon across the Golden Horn of the city was safe from their bombardment. On two occasions, Mehmet thought that the bombardment had done enough, but was repulsed each time. On the third attempt, the city fell.