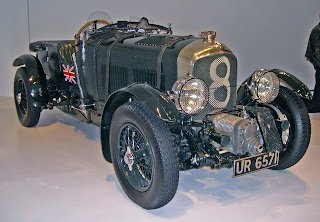 The Bentley Boys were a group of gentlemen racers who drove Bentley sports cars to victory in the 1920s. In 1925, as the marque foundered, Bentley Boy Woolf Barnato bought the company, leading to the creation of the famous supercharged Bentley Blower car.
The Bentley Boys included:
At one point, on a bet, Barnato raced Le Train Bleu from Cannes to Calais, then by ferry to Dover and finally London, travelling on public highways with normal traffic, and won; the special-bodied 6.5 L car became known as the Blue Train Bentley.
Thanks to the dedication of this group to serious racing, the company, located at Cricklewood, north London, was noted for its four consecutive victories at the 24 hours of Le Mans from 1927 to 1930. Their greatest competitor at the time, Ettore Bugatti, whose lightweight, elegant, but fragile creations contrasted with the Bentley's rugged reliability and durability, referred to them as "the world's fastest lorries".
A great deal of Barnato's fortune went to keeping Bentley afloat after he became chairman in 1925; but the Great Depression destroyed demand for the company's expensive products, and it was finally sold off to Rolls-Royce in 1931


The victorious Speed Six team at Le Mans in 1930. On the extreme left is Barnato's chauffeur. Fifth from left standing is W O. Bentley with, on his left, Sammy Davis (in beret), Frank Clement, Barnato, Glen Kidston, Clive Dunfee and Dick Watney. Mechanic Stan Ivermee is above Barnato and Hassan is above Kidston, with Kemish next to him.


By 1930 the 4½ litre supercharged 'Blower' cars were running and Birkin entered a team of three for the 1927 Le Mans race. W O Bentley entered the works team of three 6½ litre cars.With 18 cars on the grid, the 7½ litre supercharged Mercedes of Rudi Caracciola was the most serious threat.


In the opening laps of the race Birkin had the time of his life duelling with the Mercedes. Overtaking at nearly 120 mph just before Mulsanne with his off-side wheels on the grass, Birkin caught Caracciola totally by surprise, but in the process threw the tread of his rear tyre. Undaunted, he continued to set the fastest lap of the race, before the tyre finally blew in the following lap.


The chase for Caracciola was taken over by the 6½ litre cars, initially Davis and then the Barnato/Kidston car. Barnato had a terrific time. The lead changed back and forth throughout the night forcing Caracciola to use the supercharger almost continually, instead of occasionally for overtaking as it was originally intended. Eventually at about 4.20am it proved too much for the Mercedes which blew its gasket.


Thereafter, W O. Bentley slowed the cars to a fast tour. The Blowers kept going until about noon, with the two 6½ litre cars of Barnato/Kidston and Clement/Watney taking 1st and 2nd place respectively.