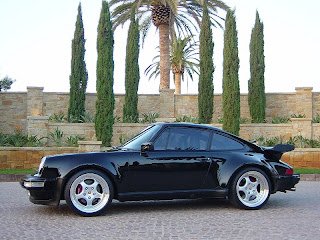 1978 Porsche Turbo 3.3
The model year 1978 brought a technical refit for the turbo. Extensive modifications were carried out to the engine, whose capacity was bumped up to 3.3 litres and the installation of an intercooler pushed the previous 260 HP up to the magic figure of 300.
Changes were also made to the clutch and the gearbox whose fourth gear ratio was now lengthened since the new turbo reached a maximum speed of 260 km/h.
To better control its temperament a new brake system with four-piston brake callipers from the Porsche 917 was introduced. The brake discs were internally air cooled and perforated.
The turbo 3.3, with a much larger rear spoiler, was therefore optimally equipped and the Porsche boss Prof. Dr. Ernst Fuhrmann described it as "a technical miracle, which on the one hand is able to glide unhurriedly through the busiest city traffic, and on the other is designed to power along at racing tempo".
Technical Specifications
Engine: six-cylinder Boxer, air-cooled, one upper camshaft each side, turbocharger with intercooler
Power: 300 HP (221 kW) at 5500/min
Displacement: 3299 ccm
Fuel system: K-Jetronic, tank capacity 80 litres
Transmission: four speed gearbox
Chassis: self-supporting bodywork with front independent suspension on transverse links, damper struts, stabilisers, longitudinal torsion bars, rear independent suspension on lateral links and transverse torsion bars, stabilisers.
Dimensions and weight: wheel base: 2,272 mm
length: 4,291 mm
width: 1,775 mm
height: 1,310 mm
weight: 1,300 kg
Performance: 260 km/h