Its amazing how a bit of random internet browsing, whilst making something else has led to me making repeatedly the Soured Cream Bundt cake that I
blogged
back in July from BBC Good Food. It really has become one of my favourite bakes, in fact it must be at least the sixth one now, including baking one on holiday at my Auntie's house in her very pretty tin (note to self: smuggle in suitcase next visit!):
Anyway as much as we all love the original version, I am rather fond of a new spice in my larder in the form of Speculaas as proclaimed back in
August
and wondered if the two should meet… I am one for indecision at the best of times but it turned out to be a most wonderful meeting and they are now best of friends. Just call me Mrs Matchmaker!
To facilitate their meet, I decided to add a little of the Speculaas mix to both the cake batter and the glaze, which worked a treat. It came out a glorious colour – this is before the glaze has fully set, then it becomes a bit more crystallized and even more delicious! Patience is a virtue!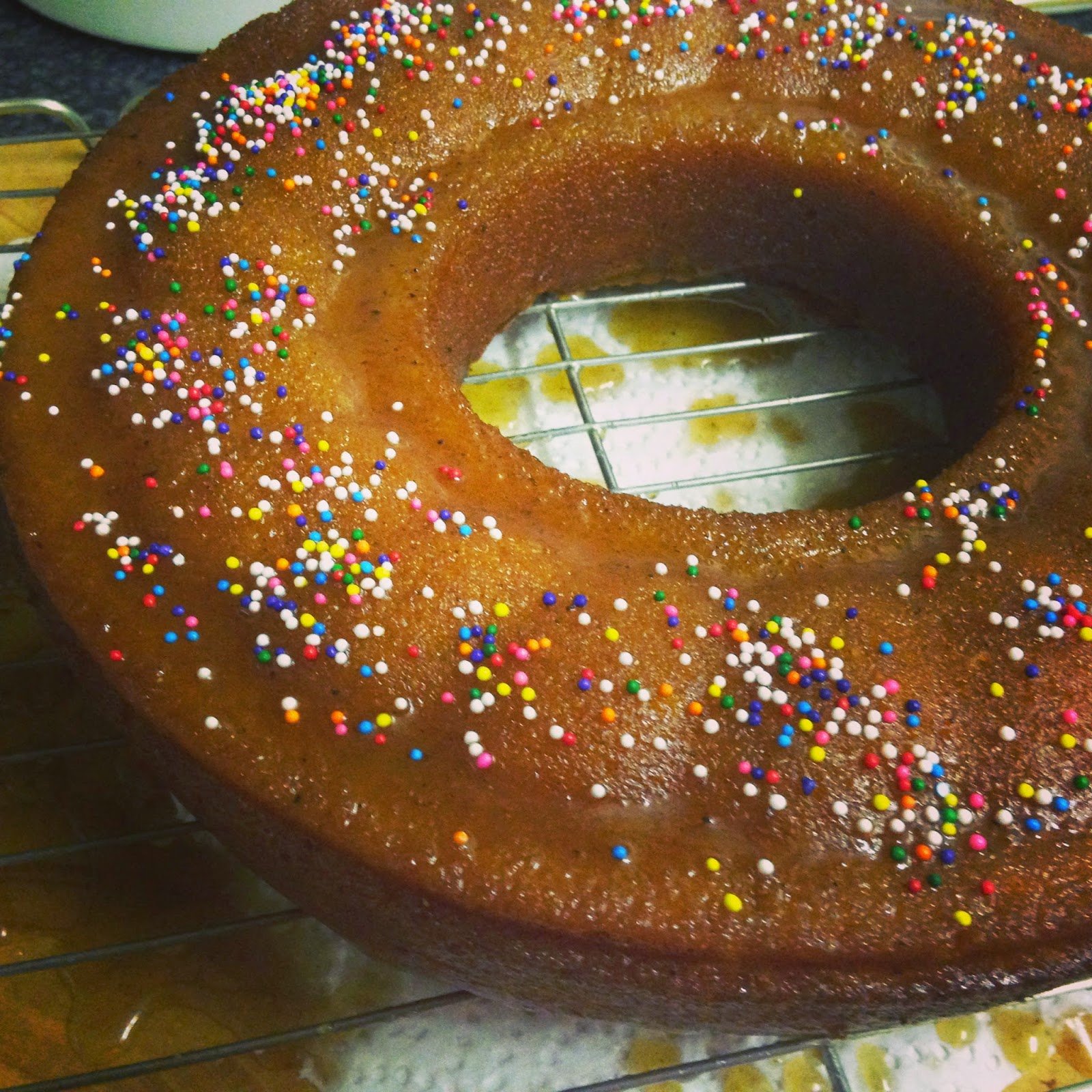 Also though I do love the original glaze, it makes lots, so with this version I scaled it back slightly and it was just perfect. Sweet, fragrant crackle encasing a heavenly soft, sweet scented sponge. Really it doesn't get much better than this.
Ingredients:
125g softened butter
180g caster sugar
2 large eggs, beaten
180g plain flour
1 tsp baking powder
1 tsp vanilla extract
150g sour cream
½ tsp Speculaas spice mix
Pinch salt
Glaze:
80g caster sugar
40g butter
3tbsp water
1/2 tsp vanilla extract
½ tsp speculaas spice mix
Optional – sprinkles of choice to decorate
Method:
Cream together the butter and sugar, until light and fluffy. Your mixer will do the hard work for you if not its time to flex those biceps!
Add a little of the egg at a time until its all combined along with the vanilla.
Sift together the flour, baking powder, speculaas and mix half of it into the cake batter, along with half the sour cream until combined. Add the remaining flour mix and sour cream and beat well until all nicely combined.
Spoon into your prepared pan and bake for 30-40 minutes or until golden, risen and a skewer comes away cleanly. Cool for at least 5 minutes before carefully upturning onto a cooling rack and allowing to cool fully before glazing.
Place the glaze ingredients into a small saucepan, bring to the boil and simmer for about 3-4 minutes until it is starting to reduce and thicken. Allow to cool for a couple of minutes before painting or spooning over the cake. Allow the first layer to set slightly before repeating with the remaining mixture. I quite enjoy this stage, its a proper test of my patience – be calm, take your time and enjoy the gentleness.
Allow your glazed cake to set for a good few hours – overnight is best if you can resist its lure that long.