Nothing beats a good roast dinner, and all its trimmings however when you work an erratic shift pattern, including most weekends the traditional Sunday roast is a very rare feature for us! However we do still have roast dinners but on other nights and this Roasted Pork started life on a Friday night and initially fed me, B, my dad and Brother. All 3 boys had seconds – though I had secretly squirreled away some cooked pork before presenting it all, mainly as leftovers are a rarity feeding them! I didn't initially plan to buy a crackling joint but was all I could find late night shopping though the boys were more than happy to have a portion of crackling with their roast! My brother actually took a little foil wrapped piece for later too!!
Sainsbury's
recently got in touch with me about making your leftover Roast work harder – One of the bonuses of cooking a larger roasting joint is all the lovely leftovers that you get to play with afterwards and in all honesty leftovers frequently result in some of my favourite meals! Cooking a large joint of Pork on this occasion took me a little out of my comfort zone – I never have cooked such a large piece before, yet alone used leftover pork and its only in the last few years I've really enjoyed eating Pork and I am really chuffed with not only the initial meal but all subsequent meals I got out of it!
In total from the 2.2kg joint of Pork we managed 11 servings, not including those who had seconds from the roast! We initially had a full roast dinner for four, then B had for lunch a wrap filled with apple sauce, roasted pork and a little veg, four portions of enchiladas and two portions of Chinese Pork noodles. Pretty impressive! The recipes will be up after this posting!
Apple and Ginger Roast Pork – The beginning
2.2kg shoulder of pork crackling joint
750ml apple juice (from concentrate, basics is fine for this)
3tsp dried ginger root
2 tbsp salt
½ tsp freshly ground black pepper
*You will ideally need a roasting bag but if not well wrap with foil*
Start by drying the joint of meat with kitchen paper, sprinkle the top with salt and place in a bath of 500ml of the apple juice and allow to relax for 20-30 minutes, drain off the juice and rinse of the salt.
Pre-heat the oven to 210o. Place the pork in a roasting bag along with the remaining 250ml apple juice and sprinkle the ginger over the top of the joint and a little black pepper, seal the bag and roast for 3 hours.
Remove from the oven and carefully cut off the top of the bag, cut way the crackling and place on baking tray minus the string. Cover the joint with foil and allow to rest, meanwhile return the crackling to the oven and cook until crispy – about 15/20 minutes.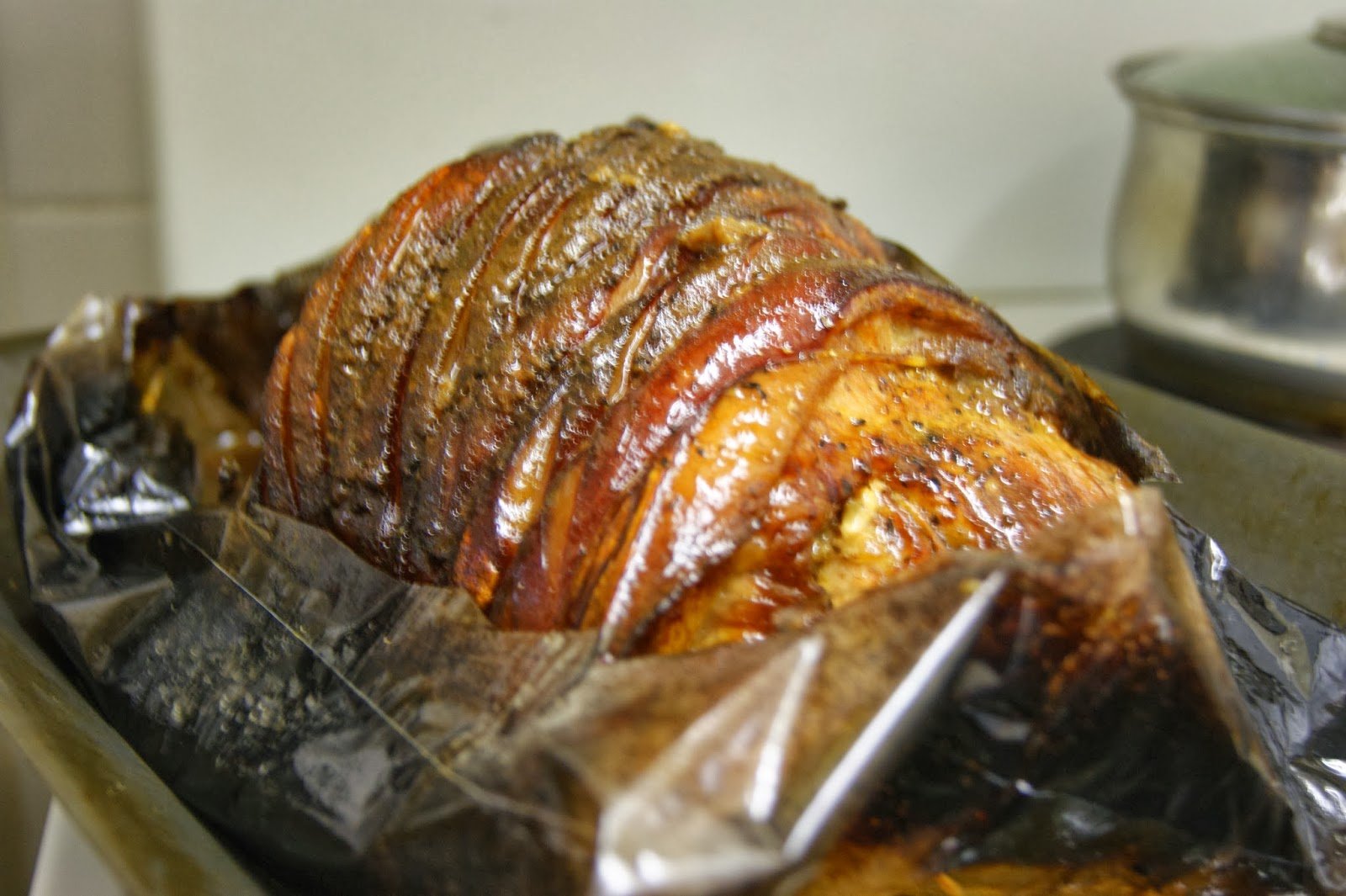 Going back to the meat, remove any excess fat (careful as it will be hot!), string and discard. Slice up as best as you can – my joint was no beauty sight wise so more a case of hacking into small chunks!
Serve up with your desired accompaniments, making sure you leave enough for later! We had roasted potatoes, swede mash, carrot mash, mustard creamed leeks, part-baked petit pains, stuffing balls and gravy.
Stuffing Ball's – I didn't tell anyone it was Sainsbury's basics until they had eaten! The texture was perfectly acceptable alongside the roast dinner at 15p was excellent value. It didn't have the same chunky coarse texture of the regular one but very much edible. That whole ONE BALL out of twelve I had made – NB Men eat too much!