Winter still has us in its chilly grip but the daffodils are starting to bloom and Spring is in the air! I love seeing their bright sunny little heads burst into flower and think of warmer times ahead! Me and cold weather do not mix! However salads are not really going to cut it for a while yet and a warming dish, like my sausage and mustard casserole is just the thing to keep you warm inside! Packed full with sausages, soft tender barley and beans it will keep you full for hours and your tummy snugly and content.
I also feel I need to apologise I've been struggling lately to get my blog posts written up, sometimes its because I get downstairs and realise the note pad / camera/ pen are still upstairs, and as stairs are simply a menace to my knees to go back up, I abandon any blogging idea. Or at a later date and I can't find where I have written a recipe down. That on top of I simply the lack the energy to string more than a few sentences together to form a blog post someday's! As per this weeks meal planning
post
my health has been not too brilliant but I am trying to just pace myself, it just gets all a bit frustrating at times though but I will keeping trying! A lot of the food lately B has been eating as my appetite has been all over the place but hopefully when the new meds kick in I might feel a bit more level! I still love to look at food though so have been spending a lot of time tidying up my
Pinterest boards
– do head over and have a little drool whilst you are there!
So enough of my woes, this dish was originally developed using some Basics ingredients from Sainsbury's – I cook fairly budget friendly anyway but managed to switch several ingredients to basics ingredients very successfully and with no loss of flavour, definitely something I have carried forward into other dishes I make. I also used up some leftover potatoes and kidney beans from other meals so it was a tasty fridge raid casserole!
Serves 3-4
Ingredients:
2 Basics Vegetable stock cubes in 1200ml boiling water
6 cumberland sausages
1 large carrot, sliced
2 sticks celery, sliced
120g cooked new potatoes, cubed
115g cooked kidney beans
1 large white onion, diced
6 tsp Basics honey (if like mine its gone a little too set simply zap in the microwave without the lid to melt!)
1.5 tbsp wholegrain mustard
2 tbsp vegetable oil
150g pearl barley, soaked in water for at least two hours
Method:
In a large saute pan or casserole dish heat the oil and brown the sausages for about 10 minutes or until they have a nice golden colour. Transfer the sausages onto some kitchen paper, cut into 6 pieces each.
Fry the onion for about 3 minutes in the remaining oil, then add the carrots and celery, stirring regularly until all the veg is just softening – about 5 minutes. Add all the remaining ingredients, bring to a gentle boil then cover and simmer gently for 2 hours.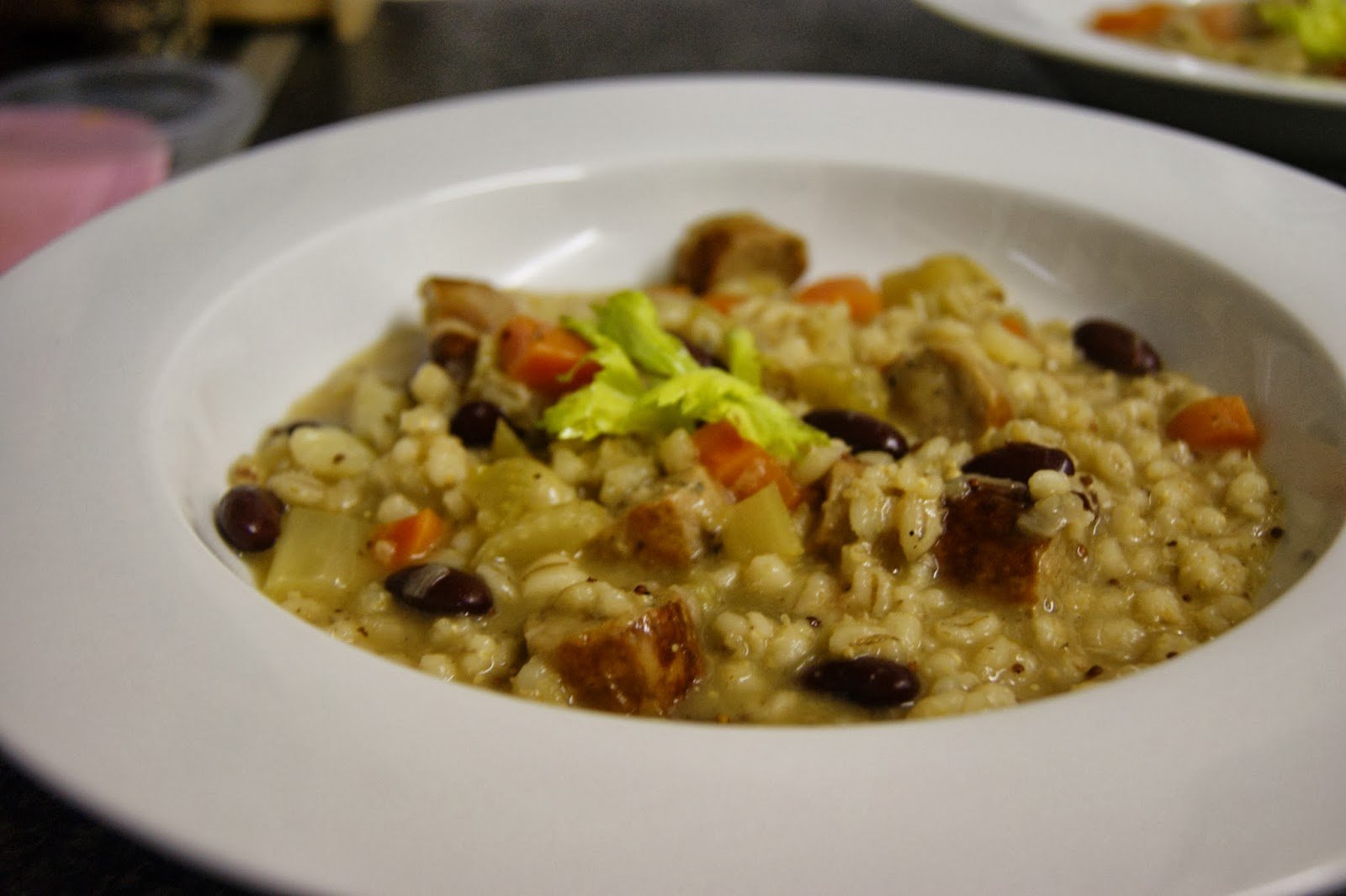 Ladle into deep bowls or pasta plates and tuck in! It also reheats beautifully the next day too!