Whilst doing the very first meal planner of 2014, I remembered that I had bought a bag of sweet potatoes and a random tub of crème fraiche on a slight whim whilst driving back from our blissful week on holiday in
Devon
, knowing they both had a relatively good shelf life and could create something good later…. Once sadly home and back in the real world the brain got
thinking after I had also bought some bacon on offer a few days later, and somewhere in the recesses of my mind I remembered how much I enjoyed the last dish I had made with bacon and sweet potatoes in and thought how well they might suit a creamy sauce…and I set about creating this fabulous pasta for our dinner!
It was everything a great pasta dinner should be, full of delicious flavour's dancing
harmoniously
together and whilst it takes some effort to make a dish twice I really can't wait to make this again! I had originally planned spaghetti but after a rummage through to cupboard found a packet of linguine and fancied that instead so it became
Creamy Sweet potato and Bacon Linguine instead! I do love how the sauce clings to the silky linguine and reminded me to buy it more often as I had clearly forgotten how good it is! It is also ready in 15 minutes, which is just wonderful as I have misbehaving feet and standing any longer at the moment is often agonizing! I so wish I could be a lady of leisure!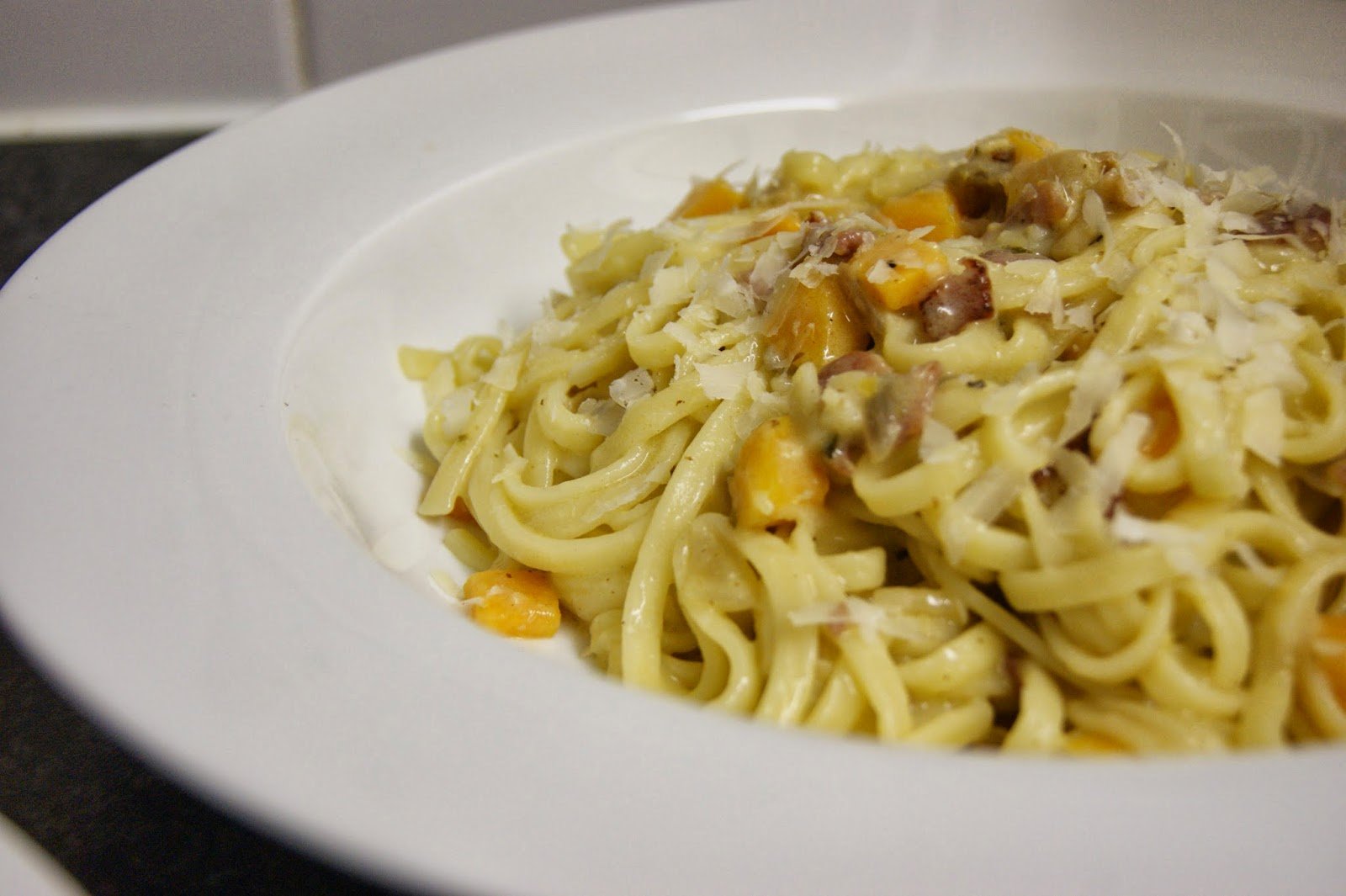 By trimming the bacon and using half fat creme fraiche it makes dinner become a lit bit healthier too with zero compromise on taste, all very welcome in January!
Serves Two:
Ingredients:
3 rashers smoked bacon, trimmed and diced roughly
25g grated parmesan + extra for garnish
250g half fat creme fraiche
135g sweet potato peeled, cut into 1/2 cm dice
1/2 red onion, finely sliced
Good quality extra virgin olive oil for garnish
1 tsp basil paste (I used Gourmet Garden)
Start by bringing a pan of salted water to the boil and heat the olive oil in a large saute pan and prep your ingredients.
Check the cooking times for the pasta, mine was 9 minutes and begin cooking it – the sauce will take about the same time.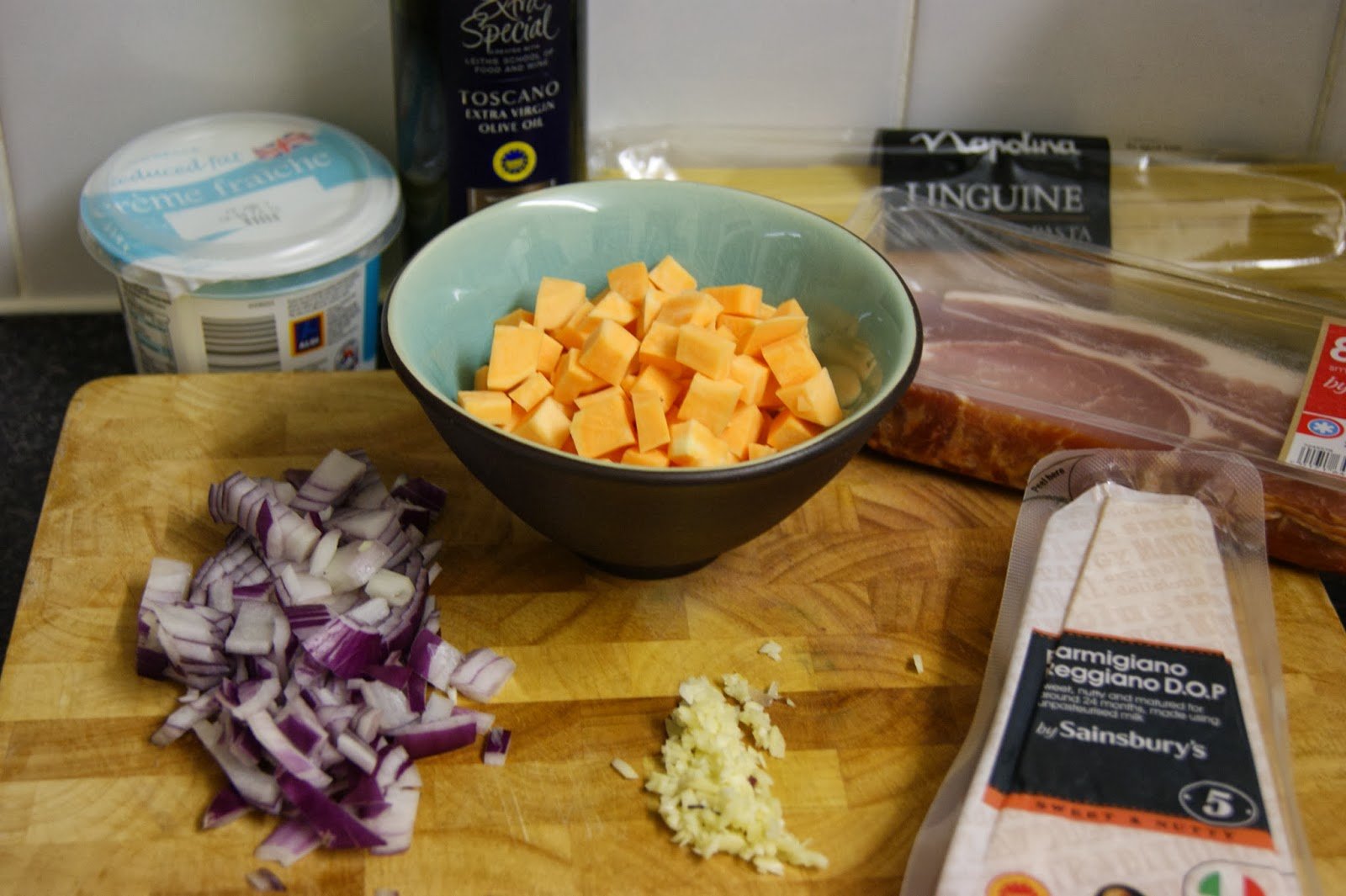 Gently fry the onion until softened, add the sweet potato chunks and cook for about 3 minutes – you don't want to be browning but keep the pan hot enough to cook through, make a well in the middle and add the bacon pieces and fry for a further five minutes or until cooked through, stirring from time to time.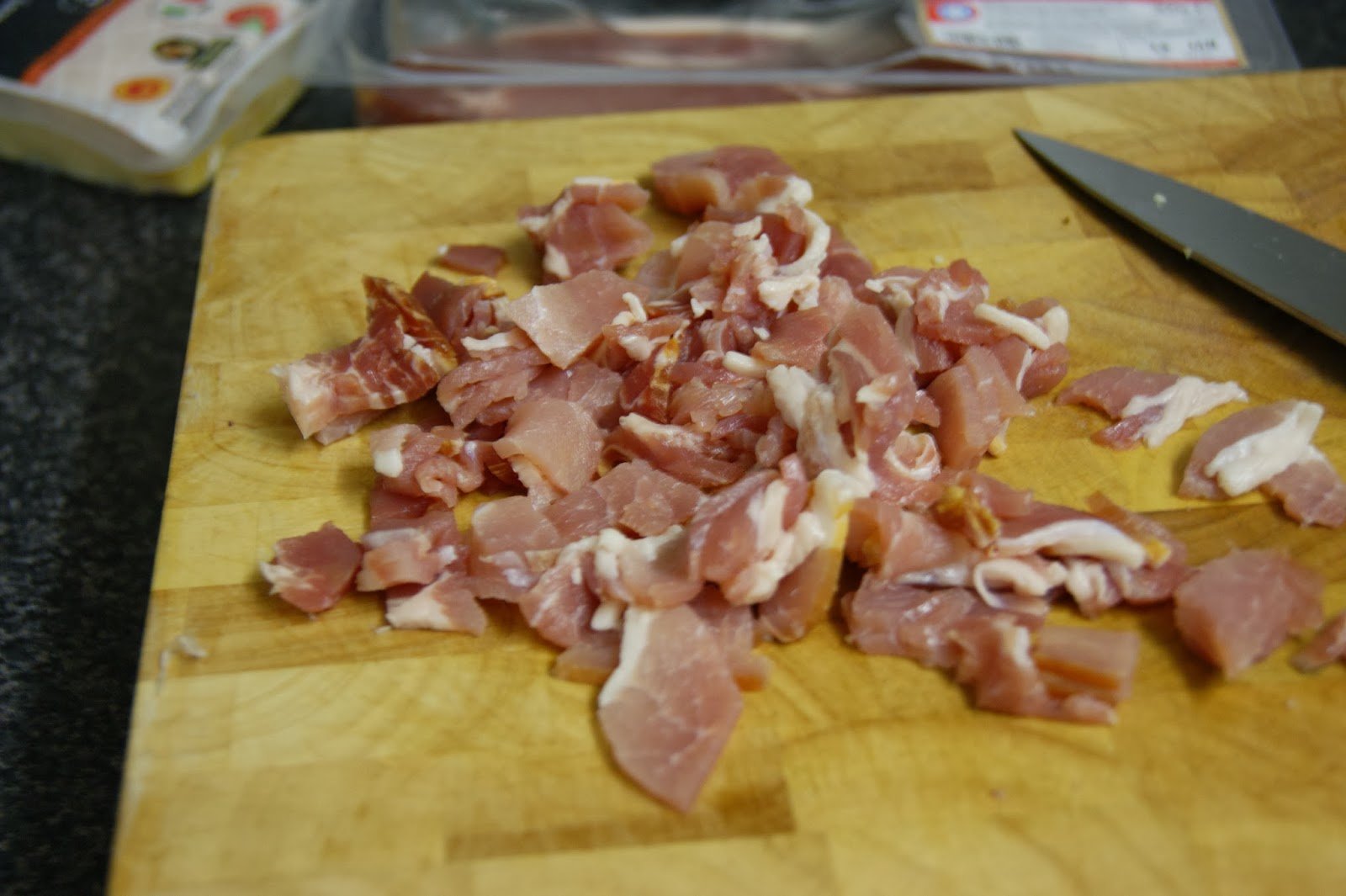 When the bacon is cooked and the sweet potato soft enough to pierce with a knife, stir in the garlic and cook for about a minute. Add a cupful of the pasta water along with the basil, simmer gently and then lower the heat and stir through the creme fraiche.
Remove the pan from the heat and stir through the parmesan and season to taste. Serve in pasta bowls with a generous sprinkling of parmesan and a drizzle of your good extra virgin olive oil.
Tuck in with glee!! I really didn't want this to end! I know I still have a few sweet potatoes spare but lacking bacon and the creme fraiche..must go shopping!!
I am entering my creation over at Lavender and Lovage's
Cooking with Herbs
– I used Basil paste as whilst I love fresh basil, our kitchen is rather cold this time of year and we are waiting for warmer times to put the basil out!