I had originally nearly finished writing this post, then I stupidly tried to change photo format and lost the whole blog post!! Now I didn't make any resolutions but instead to make more of an affirmation that 2016 I will be more thankful, though I may have just broken that slightly with a slightly sweary outburst! *Close my eyes, count to 10 and be thankful I have a computer to type on!* Though I will be computer less again soon, I've had nothing but trouble with it since buying it last January so its back to pc hell again once I get around to attempting to do a back up!
So did you make any resolutions? Broken them already like me? ! The last 5 years have been an emotional roller coaster, often feeling like its straight out of hell …… but …. I have worked very hard mentally trying to have a more positive outlook, change what I can and accept what I can't change. Sometimes its a little easier said than done and there has been tears, often out of frustration but I am starting 2016 with a clean slate. I did a fair amount of mental de-cluttering last year, including removing people in my life who didn't belong in it – its been hard, and emotionally painful but it was definitely for the best. I am very lucky, and grateful that I do have amazing friends and family to help me through both the good and the bad times too. My top tip for 2016 is to reach out to loved ones if you need help, don't struggle on your own just because someone else made you feel so worthless. There are some proper goodun's out there!!
During 2015 I have not cooked as much, sharing a kitchen is not ideal for when you want to experiment or cook up a feast but can't get in the kitchen …. but its what we have until we either win the lottery or live on porridge for a year but I am positive it will happen soon! Also the IBS/ reflux has been a general nightmare, so much meal planning has gone to waste as I couldn't manage it but I am now seeing a fab new doctor so hopefully once we get to the bottom of it, some of my love for cooking – and eating will reappear! Maybe I might even start to blog again more regularly as I feel I have very much neglected the blog of late!!
Anyway, enough of my post hangover gushiness and in with what you came here for – the food! Corned beef hash is one of those comfort food dishes that's a relatively new staple in our diets! Weirdly I never ate this at home growing up and only ever once eaten it out as a child, so the idea to make it came out of nowhere a few months back and I've been slowly tweaking it to my liking. I've kept loyal to the potato and corned beef bit but shaken up the rest and this current edition is rather delicious if I do say so myself!
Its never going to win a beauty pageant but it tastes pretty darn good and that's all that matters! Its economical to make, packed with sneaky veggies and re-heat's really well too. This one used regular baked beans but we have also experimented with the mixed beans in tomato sauce which worked equally well.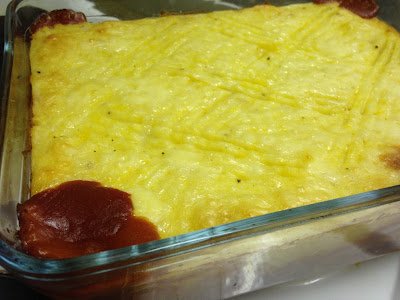 Serves 4
Easy
Ingredients
320g peeled, diced swede
770g white potatoes, diced (peeling optional)
1 tin corned beef, roughly chopped
1 small red onion, finely chopped
1 tin baked beans, low salt if possible
1 tbsp smoked paprika
2 cloves garlic, minced
2 tbsp Worcestershire sauce
1 small red pepper, finely chopped
1 tbsp butter
50g grated cheddar
1 tbsp oil
1 tbsp tomato puree
S&P
Boil the swede and potato together for 20 minutes or until soft and fluffy, drain well. Add the butter and mash well.season to taste with salt and pepper
Preheat oven to roughly 180o (our temperature gauge is still broken, basically a medium hot oven)
Meanwhile, heat the oil in a large saute pan, fry the onion until golden, add the red pepper for 3 minutes, then add the garlic and corned beef and saute for about 6 minutes or until the corned beef has become a little mushy and the veggies are soft and cooked through. Add the worcs sauce and tomato puree, along with 6 tbsp water to loosen, cook for a further 3 minutes and remove from the heat.
Fill a oven proof dish (mine is roughly a4 sized) with the meaty mixture. Mix together the smoked paprika and baked beans and pour over to make a thin layer. Top with a further layer of the prepared mash and sprinkle over the cheese. Make a pretty pattern with forks if desired.
Bake in the oven for 30-35 minutes or until its golden on top and bubbling. Serve with greenery of choice, buttered spring greens work very well here.