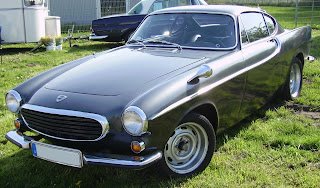 A 1966 Volvo 1800S owned by Irvin Gordon of East Patchogue, New York, USA has the Guinness world record for highest mileage in the same vehicle he has been driving for more than 40 years. It had covered in excess of 2,219,751 miles (3,572,342 kilometres) by March 2004, and passed the 2,600,000 mile mark (4,184,294 kilometres) by October 2007.[3][4][5] As of November, 2009, the car is at 2.7 million miles and the owner is now targeting the three million mile mark.[6]
He has driven about 26,000 of those miles outside of the U.S., in Canada and Mexico, as well as in Europe. "In Sweden, we drove to Volvo's global headquarters to see where the P1800 was born", Gordon said.
On April 2, 2002, Gordon and his 1800S were guests on The Tonight Show with Jay Leno, after reaching the two million milestone.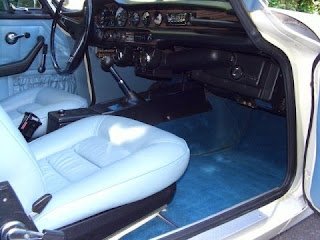 Now some information about the car :
Early in 1959, Volvo presented a new sports car, two years after the previous attempt with the Volvo Sport, with a body made of fibreglass-reinforced polyester.
The new car was initially known as the Volvo Sport, but it later became known as the P1800. This new sports car had Italian styling and production began in 1961.
As Volvo did not have the capacity to build the car itself, production during the first years was contracted to England. A company called Pressed Steel made the bodies, while the final assembly took place at Jensen.
The Volvo P1800 was based on the floorpan of the Volvo 121/122S, but it had a shorter wheelbase. The car also had an entirely new 1.8-litre, 4-cylinder engine which developed 100 bhp.
Over the years, the car was developed primarily by the introduction of new engine alternatives. In the autumn of 1968, a 2.0-litre engine with an output of 118 bhp was introduced. It was followed in 1969 by a version with fuel injection and an even higher output.
Technical facts:
Prod. years: 1961-1972
Prod. volume: 39,414
Body style: Coupé, 2+2 seater
Engine: 4-cylinder, in-line, overhead valves, 1,778 cc (108 cu. in.), 84.14 x 80 mm, 100 bhp at 5,500 rpm, increased in 1968 to 108 bhp at 5,800 rpm. A 2.0-litre, 1,986 cc (121 cu.in.), 88.9 x 80 mm, carburettor version appeared in 1968, followed by a fuel-injection version in 1969.
Transmission: 4-speed manual or 4-speed manual with overdrive and a 3-speed automatic, all with a floor-mounted gear lever.
Brakes: Hydraulic, discs at front and drums at rear, later models had discs for all wheels
Dimensions: Overall length 440 cm/173.2″, wheelbase 245 cm/96,5″.
Miscellaneous: This Volvo model became very famous as a result of its role in the films about "The Saint" in which the hero Simon Templar (Roger Moore) drove the car.

Record-breaking 1800