Earlier this week I showed students a map of the 13 original colonies. The map showed southern Revolutionary War battle sites with names but no dates. I asked students, "What do you notice about this map?" Some wanted to know where the map title was. This is a good sign as I've trained to look for the title first. Many wanted to know where Lexington and Concord, Long Island, Trenton, and Saratoga were. Those sites have become old friends to my students as we have spoken about them, seen images and primary sources from those battles, and drawn scenes depicting the events over and over for several days. Through a series of questions and answers students finally decided that for some reason the focus of the war moved to the south. "Why?," I asked, "Why would the British decide to move south?"
How to Stop Missing Deadlines? Follow our Facebook Page and Twitter! Jobs, internships, scholarships, Conferences, Trainings are published every day!
Some of the responses included the south had more open land for easy movement (pretty good deduction for a 9 year old, if you ask me) and there was an idea about dividing the colonies (also a good deduction). Finally, someone came up with the idea that the south had many Loyalists. Perhaps the British thought they would be in friendlier territory there. Later when students picked apart the content in the textbook they discovered that Cornwallis and the other British officers felt they would be in friendlier territory if they headed south. For the most part they were correct. Students brought up the fact that the southern colonies were newer and it would make sense that they would have more Loyalists there.
One of the things they didn't anticipate was General Washington's top man heading south as well in 1780. Nathanael Greene a former iron maker, blacksmith, and Rhode Island legislator became Washington's most trusted man. Time after time he had success when he commanded Boston after the British left in 1776, when he defended New York, participated at Trenton, Brandywine, Monmouth, and Germantown.
During the southern campaigns Greene also acted as Washington's quartermaster and often used his own funds to pay for the army's expenses. Without winning a major battle Greene waged a campaign against Cornwallis that ended up liberating Georgia and South Carolina from British control. Greene's creedo was "We fight, get beat, rise, and fight again." Using misinformation and taking advantage of the large numbers and heavily laden British troops Greene criss-crossed his way through hard backcountry territory. Basically he wore the British out. Greene's men could move faster due to low numbers and hardly any equipment at all. A long list of resources for Greene and the southern campaign can be found here.
After the war the state of Georgia was so grateful to Greene and since he had depleted his own fortune fighting the war they awarded him a plantation called Mulberry Grove near Savannah. The property had once belonged to Royalist Lt. Governor John Graham. The estate had been abandoned as Graham left the state and Greene set about making the rice plantation fruitful again. He and his wife, Catherine Littlefield Greene also began building a summer home on Cumberland Island they would name Dungeness after a hunting lodge that had been there previously. Unfortunately Greene died of sunstroke in 1786, but his wife continued building Dungeness and soon the tabby house was complete.
Greene was originally buried in Savannah's Colonial Cemetary but his remains were eventually moved to Johnson Square where a monument is erected there in his honor. Greene's son, who drowned in the Savannah River, is buried along with his father. Greene Square, also in Savannah is named for Nathaneal Greene.
Greene's death wasn't the end, however, to the Greene contribution in the Savannah area or in the south for that matter. It was a tutor by the name of Eli Whitney that invented the cotton gin as he watched the production of cotton at the Mulberry Grove plantation. Later the summer home on Cumberland Island was finally completed and the family moved there full time in 1800 when Mulberry Grove was sold because of mounting debts.
The Greene home called Dungeness had four stories above the basement and had sixteen fireplaces. Some sources indicate the Greene family cultivated olive trees, fig, date, palms, coffee, guava, lime and pomegranate. In 1796 Mrs. Green married Phineas Miller and they along with her children lived on Cumberland for many years. Some sources indicate that it was during this time period Dungeness was the place to visit for the major social events in the surrounding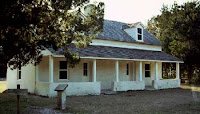 area.
The only building remaining from the Greene version of Dungeness is the gardner's house. Built around 1800 it is the oldest structure remaining on Cumberland.
The house played a part in the War of 1812 when Admiral Cockburn of the British army (he's the one who burned Washington D.C) occupied Dungeness. Members of the Greene-Miller family still living at the home were told to stay upstairs while their "guests" took over the main floor as headquarters. Much of the surrounding grounds were destroyed and the cotton was seized. The date was January, 1815. Admiral Cockburn was aware a peace treaty had been signed but, until he received "official" word he went on with his fun.
Another Revolutionary War connection with Cumberland Island and Dungeness is General "Lighthorse" Harry Lee who served under General Washington and was father to General Robert E. Lee, came to recooperate at Dungeness. His injuries had been received while defending a friend who had opposed the War of 1812. He died on March 25, 1818 and his remains were interred for a time in the Greene family cemetary. The headstone still remains at the Greene family cemetary on Cumberland, however, Lee's remains were moved to Washington and Lee University in 1913.
Greene-Miller family members retained the home until it burned. Later Thomas Carnegie, brother to steel magnate Andrew Carnegie